HomeAssistant - Broker setup
This guide is intended for advanced users that prefer to run an MQTT broker on their HomeAssistant installation.
Step 1 - Install file editor
Go to the add-ons and install the file editor.
Under "configuration" set the editor to allow editing any file.
Step 2 - Install MQTT broker
Go to the add-ons and install the MQTT broker.
Under "configuration" enable customization. This will make the MQTT server (mosquitto) look for config files under /share/mosquitto for customization config.
Step 3 - Open the file editor
Go back to the file editor add-on. Select "Open web UI" and consider adding it to your HomeAssistant sidebar for easy access.
Step 4 - Create MQTT bridge config
Create file /share/mosquitto/solar_assistant.conf with the following content below. Use your SolarAssistant device IP.

connection SolarAssistant
address 10.0.0.5
topic # in

This is what it should look like in the file editor.
Step 5 - Restart MQTT server and check bridge is working
Go to the Mosquitto broker add-on and click "restart". Check the logs to confirm your config file created in step 4 is loaded.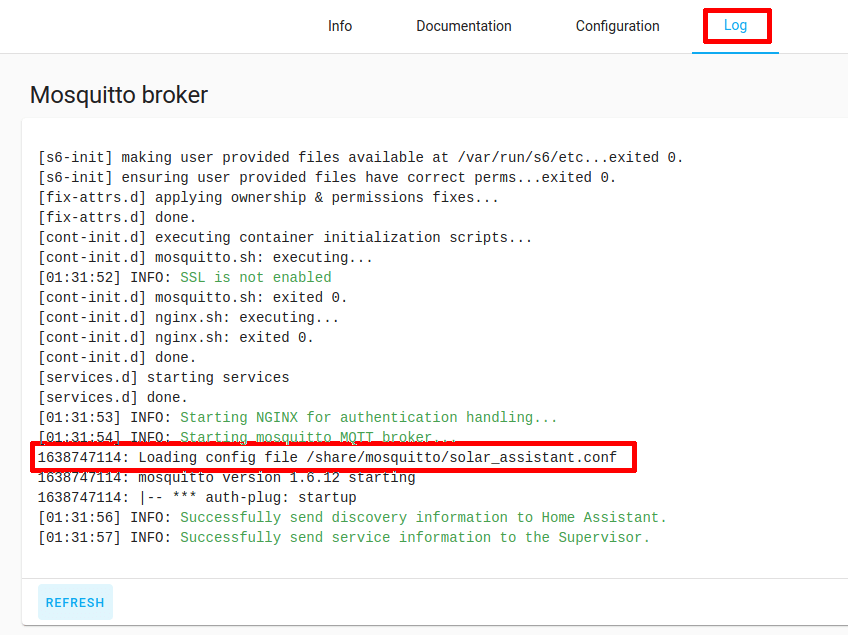 Step 6 - Check incoming messages
Go to the HomeAssistant integrations and add MQTT if it's not there already.
Select "Configure" and subscribe to the # topic. You should see SolarAssistant messages appear.