Configure battery
Step 1 - Select battery
On the configuration page, select your battery by consulting the table below.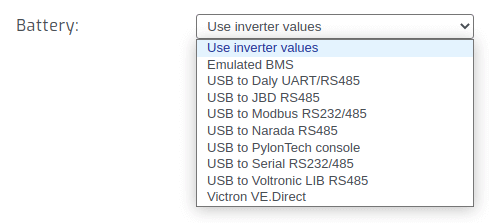 Selection
Description
Use inverter values
The application will display battery values reported by the inverter.

If your inverter is connected to your battery via a BMS communication cable SolarAssistant will show metrics the inverter reads from your battery BMS. In this case you don't need a USB to battery cable unless you want more in depth metrics.

Voltronic inverters (Axpert, MPP Solar, Mecer, Kodak, etc.) that don't have a BMS communication cable will have a very inaccurate battery state of charge (SoC) with lithium batteries because they determine the SoC by voltage. We recommend using a battery BMS cable or the Emulated BMS.
Emulated BMS
Let SolarAssistant perform it's own state of charge (SoC) calculation by counting power flowing in and out of the battery. This is a good fallback option for anyone who can't get a real BMS reading. It's less accurate than a Victron BMS but much more accurate than the standard voltage based readings of an inverter.
USB to Daly UART/RS485
Daly BMS UART/RS485
Deligreen BMS UART/RS458
Heyo BMS UART/RS458

USB to JBD RS485
JBD BMS RS485
Overkill Solar BMS RS485
QUCC BMS RS485

USB to JK RS485
JK BMS RS485

USB to Modbus RS232/RS485
Averge CH48/LFeLi range RS485 port
EG4 LIFEPOWER4 (with LCD) RS485 port
EG4 LL RS485 port
Iseli Energy RS485 port
Leoch LFeLi RS485 port
Rentech BTESF RS485 port
Revov R9 RS485 port

USB to Narada RS485
EG4 LIFEPOWER4 (without LCD) RS485 port
Narada NPFC RS485 port
Shoto SDA10-48100L5 RS485 port

USB to Pylontech console
Pylontech RS232 console port
USB to Serial RS232/RS485
Averge CH48/LFeLi range RS232 port
Dyness RS485 port
Greenrich RS232 port
Hubble AM and X-100/X-101 RS232 port
Iseli Energy RS232 port
Jakiper RS485 port
Leoch LFeLi RS232 port
Meritsun ESS Power Wall RS485 port
Narada NPFC RS232 port
PowerUp by ESS LiFePO4 RS232 port
Pylontech RS485 port
Revov R100/B100 RS232 port
Shoto SDA10 and SDC-Box RS232 and RS485 port
SOK Battery RS232 port
Seplos BMS RS485 port
SolarPower24 LIFEPO4
The Sun Pays RS232 port
Trophy battery RS485 port
Vestwood RS485 port

USB to Voltronic LIB RS485
BlueNova RacPower RS485
BlueNova BMAC RS485
Giter battery RS485
Hubble X-100 RS485
Freedom Won E-Tower RS485
Freedom Won CAN Converter RS485

Victron VE.Direct
Victron BMS or SmartShunt
Most cables listed above can be purchased in our online shop.